The African Hebrew Development Agency

(AHDA) is a registered, non-governmental organization (NGO) operating across Africa and organized by the African Hebrew Israelite Community of Dimona, Israel. AHDA specializes in providing technical assistance, training and consultancy in essential areas of human development and capacity building such as health, agriculture, rural development, environmental maintenance and related fields.
Operating in Ghana since 1995, AHDA, known originally as the Israelite Development Agency (IDA) has taken part in several vital projects.
1995 - Sponsored a joint medical and dental delegation to Ghana providing free treatment and services in both rural and urban areas
1997 - Digging of water wells in the Volta region of  Ghana
1998 - Sponsored the production and distribution of anti-smoking campaign materials to senior secondary school children
1998 - Training in organic farming and milling techniques in partnership with the  establishing of rice and flour mills in the Volta region
2002 - Conducted nutritional seminars on benefits of soya and designing of school feeding programs
2003 - Training in soy bean cultivation in the Northern Region of Ghana.
2006 - Regenerative Health and Nutrition Program operating in Ghana in conjunction with the Ghanaian Ministry of Health.
Other AHDA projects across Africa include:
Constructing and training in the use of bio-gas digesters to provide electricity in rural Liberia.
2006 - Food Security and Agriculture Project in the West Pokot District of Kenya
It is the position of the AHDA that the most valuable resources Africa has to offer, are its human resources and that by investing in its development, we will insure a future of strength, vitality and productivity for the continent.
Projects
The Regenerative Health and Nutrition Program in Ghana,
in conjunction with the Ghanaian Ministry of Health, AHDA specialists conducted training of medical service professionals and those in related fields in the practice and principles of preventive health and health literacy. The training focused on three central areas (seeking to assist the country on meeting Millennium Development Goals*;  ): mother and child health, nutrition, and healthy lifestyles – including appropriate regular exercise and environmental and personal hygiene. The program reached beyond the medical field and included traditional leadership (chiefs and queen mothers), matrons, caterers, media practitioners, students, clergy, musicians and entertainers;
the Restoration Village Organic agricultural training project
in Ghana is developing a residential organic agricultural training center for young people between the ages of 18-32 with special emphasis on creating more opportunities for women. Partners include, the Ghanaian Ministry of Health, MASHAV (the Israel-based International Organization of Cooperation), the National Union of Ghana Students (NUGS) and more;
African Boreholes Initiative
in Kenya,is a collaborative effort formed with local partners to provide potable water to drought-stricken areas of Kenya.
REGENERATIVE HEALTH AND NUTRITION PROJECT:
This year (2008) marked the second year of the Regenerative Health and Nutrition Program (RHN) which was designed by AHDA and initiated in conjunction with the Ghanaian Ministry of Health. It is a process of using natural and non-medical interventions to continuously improve ones health and move from a curative position, to one of preventing disease and thus increasing productivity and life expectancy. The main components to the program are training, communication/advocacy, service provision and the development of Regenerative Health and Nutrition Centers.
The training program focuses on four essential areas: mother and child health; nutrition; healthy lifestyles and advocacy. Intervention in these modules is a primary component in the strategy to meet essential millennium development goals (MDGs). The trainings target health care workers, school and hospital matrons, caterers, mid-wives and traditional birthing assistants, students and traditional / tribal leadership. It is presently being taught in every district of the country. In addition more than 80 Ghanaian leaders came to Israel as a part of the RHN – Dimona Study Tour component of the program, to study the roots of the program and view its practical application on a village scale. Their participation brought the number of study tour participants to 200 over the life of the program.
AFRICAN BOREHOLES INITIATIVE (ABI):
AHDA has joined with local Kenyan partners to found ABI for the purpose of providing potable water for those in need. Established in August 2008, ABI makes use of local expertise providing employment and training in a most essential area. To date wells have been dug successfully across the country, from Nairobi, to the Kapenguria Region and beyond. Currently ABI has committed to sponsor a borehole project for the Mogotio Girls High School, an all female public boarding secondary school housing 430 girls from the ages of 13-18.  By providing a borehole and clean drinking water, ABI will help by making more time for the educational process which will foster intellectual development, resourcefulness and creativity within the school.  We are currently forming a coalition of local and international donors to support this effort, including Fountains of Eden, a US-based non-profit organization.
RESTORATION VILLAGE:
The Restoration Village Project is the development of a residential organic agricultural training center for young people between the ages of 18 and 35. The project is unfolding on an 80 acre tract of land in Asikuma Odoben Brakwa district in Ghana's Central Region. It is a multi-faceted endeavor which counts among its benefits and objectives:
developing skills in agriculture, including water and soil management and marketing
providing the highest quality and expanding the variety of food products for local consumption and export markets
providing a hedge against the migration of Africa's youth to the already overcrowded urban centers through the creating of challenging career opportunities in the rural area.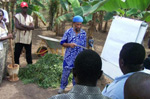 Partners in the project include:
the Ghanaian Ministry of Health; the Asikuma district government, the National Union of Ghana Students (NUGS); MASHAV (Israel's Organization for International Cooperation); Engineers Without Borders (EWB); and the Chosen First Fruit Youth Organization (Dimona, Israel).
The year saw
AHDA trainers partner with experts from MASHAV in training prospective teachers for the soon to be established center.